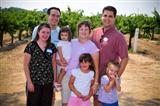 We had a wonderful time at the reunion this weekend!  It was for all descendants of Verne Hoffman, Sr. –  grandfather of my father-in-law, Roger.  It was held on Saturday at the Heritage Oak Winery, a vineyard owned and operated by Roger's cousin, Tom Hoffman, and Tom's wife, Carmela (we all call her Camucha).  I was given the job of running the sign-in desk, where we collected contact information for everyone and let each person make their name tag.  We had a great time figuring out each person's "code number," which we also put on the name tags, indicating their relationship all the way back to Verne Sr.  My code was 1.3.5+, which means I'm Verne's first child (Verne Jr.)'s third child (Roger)'s fifth child (Jim)'s spouse.  Jim's, of course, was 1.3.5 – all rather complicated, but very entertaining.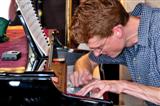 We ate lunch and various family members gave announcements, performed musical numbers, and told stories.  After mingling and chatting some more, several of us changed into swim suits and headed down to the Mokelumne River, which runs along the boarder of Tom & Camucha's land.  We had innertubes and kayaks and took turns floating down the river beginning at the launching point and arriving at the beach area 30-40 minutes later.  Huge blackberry bushes grow along the river in a couple of places, so we paddled over to eat ripe, delicious berries right off the bush several times.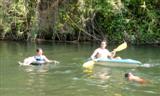 It was incredibly relaxing and fun.  I absolutely loved it.  At the beach area, there was a picnic table, where we set up snacks and leftovers for dinner, and then across the dirt road was a meadow where a wiffle ball game was held.  We stayed until twilight finally forced us to pack up and head home.