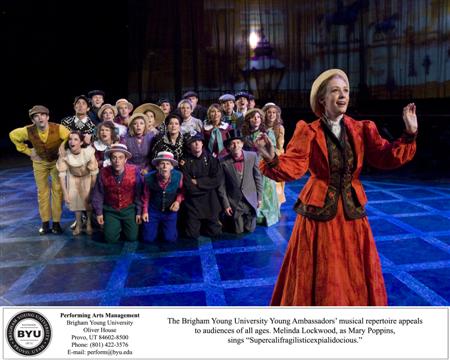 Oh, there is so much to write! We spent this weekend down in Los Angeles, where we saw my cousin, Melinda, perform with the BYU Young Ambassadors: It was a fantastic show, and Melinda was "practically perfect in every way" as Mary Poppins. "The New American Songbook" included a musical review of the 60s, 70s, and 80s and also show tunes from recent Broadway hits, including "Wicked" and Disney's 2006 theatrical production of "Tarzan." It was wonderful!
We drove down to Culver City (in West LA) on Thursday morning, which took us a little over six hours. We ate dinner with Jim's Grandma & Grandpa Packard, and then drove down to Long Beach, to see the Young Ambassadors' show. After that, we returned to Culver City to stay with Jim's Aunt Debbie for the night. Friday morning we had breakfast at Dinah's – a cafe restaurant that is famous in the Hoffman family for selling the most delicious apple pancake you've ever tasted.
That afternoon, we went to the Hyatt Hotel in Garden Grove, to see the ACDA Western Division Honors Choir Concert. We attended because Jim's niece, Amber, was selected to represent her school in the Children's Honor Choir this year! It was a beautiful, varied program, and the kids did an amazing job. Jim's mom was also in town as Amber's escort! After a mini-family reunion at Outback for dinner, Jim and I made the long return trip in the car back to Livermore. This time, we were driving late into the night, but at least that meant we weren't fighting traffic! So, we arrived home a little before midnight, exhausted but happy to have had such a wonderful weekend in LA.
Comments (0)
Trackbacks (0)
( subscribe to comments on this post )



4:39 PM

on March 5th, 2008



6:36 PM

on March 5th, 2008
Leave a comment