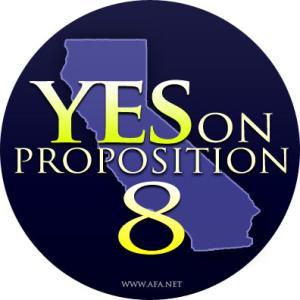 This month has been a roller coaster! I apologize that we haven't kept our blog very up-to-date, but everything has been moved to the back burner while we campaign for Proposition 8. This is our first experience being part of a "grassroots movement." It wasn't exactly fun – honestly, I hope I never have to do something like this again – but it has certainly been an amazing experience, and I've learned a lot.
We're making phone calls again today, and will be waving signs downtown for another hour or two this afternoon. Tomorrow I'll be at one of the polling locations (the legal distance away) with signs and fact sheets to help any last minute undecided voters see the issue clearly. It's amazing to think there are really less than 36 hours left in a project that has taken up our time and emotions for the past several months! I'm so grateful for the prayers, fasting, donations, and support of all our family and friends. I'm very confident that we will be successful, and trust that, after all we can do, California is in Heavenly Father's hands.
The Primary Elections are today (for California, at least), and away I go to vote. I hope everyone I know takes the opportunity we are given to declare our opinion about the public officers that lead our country! What a blessing it is to live in a land of liberty!
Ok, I'll stop now… but you all should really vote! At least vote on our poll, anyway 🙂 Who would you like to see as the President of America next year?
So much debate about who to vote for in our next Presidential election! They are still so far away; it's amazing how high emotions are already running. And such a variety of people and backgrounds on the docket! I have some ideas about who I'll vote for, but I haven't decided for sure yet. Of course, a part of me wants to vote for Mitt Romney, but I have also been interested in, and impressed with, some of the others running for office: Mike Huckabee, for instance, and (I know I'll get in trouble with certain people for this) Barak Obama. I'm interested to know what our friends and family are thinking: Are you planning on voting (you should!) and, if so, have you already picked your candidate? Or are any of you, like me, glad that we still have plenty of time to decide?
On a lighter note, maybe we should all vote for Gladys Knight: Then we'll have our first female, black, Mormon President all in one! …though, I don't think "Gospel" counts as a political party.