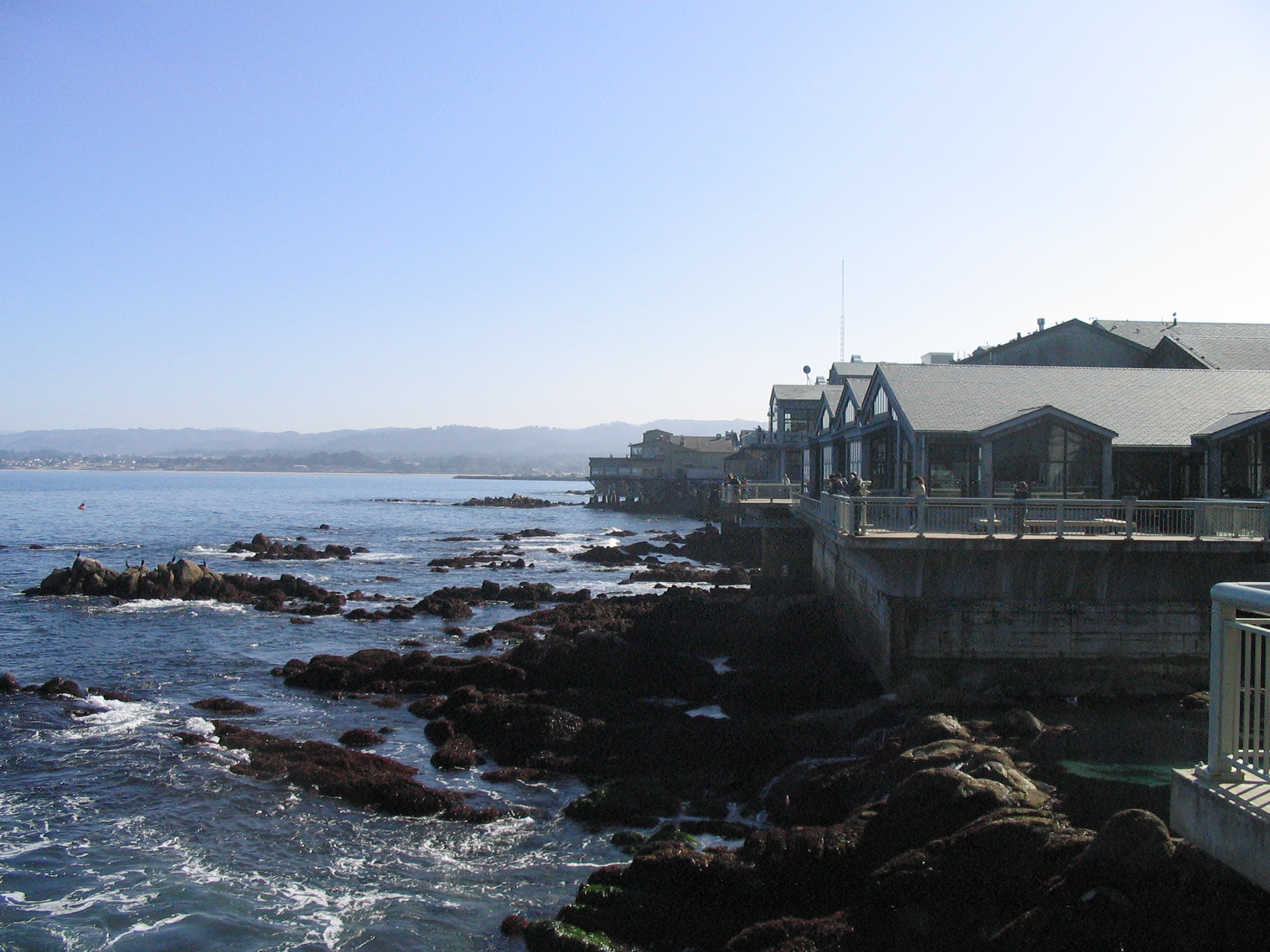 Yesterday was amazing! Since Jim and Justin had the day off (they're both on a 9/80 schedule at work, so they get every other Friday off), we spent the day with the Bradleys at the Monterey Bay Aquarium. It's a long drive – about two hours each way – but it was quite a treat to make the trip together. First, we watched a diver feeding fish in a kelp forest and learned about making seafood choices that are friendly to the environment. We saw two giant octopuses, huge crabs, jellyfish, sea otters, sting rays, different kinds of birds, snakes, frogs, and – of course – amazing varieties of fish! They have some fun "Touch Pools" where kids (and grown-ups!) can actually reach in and safely poke around at kelp, sea urchins, abalone, starfish, and more. Maddie was patient and peaceful in her stroller the entire time, and attracted lots of admiration from passers-by. Emily was just a whirlwind of interest and energy all day. Thank goodness for the kids' play areas! The slide was, apparently, Emily's favorite.
When we were all sufficiently exhausted, we headed over to the wharf and had dinner at the Old Fisherman's Grotto, which won over the other options with the promise of deep-fried cheesecake. For the first time in my life, I had fresh steamed crab. It tasted good, but I really couldn't get over having to crack open the stiff, spiky legs and scooping the meat out from the crevices inside. The fact that Jim demonstrated tugging the remaining tendons to make the leg joints move and claw pinch didn't help my appetite for the dish. We also had delicious deep-fried asparagus hearts, which were so good that Jim and I looked at each other in delight and – of course – said, "What a great idea! We should make these at home!" The meal ended with the aforementioned deep-fried cheesecake with strawberry sauce, and a scoop of birthday ice cream for Kristyn.
P.S. Rebecca won the contest for identifying the source of our tag line – check back tomorrow to see her prize!