Today was wonderful! I spent – literally – most of the day preparing for this evening's Mikulás Feast. We invited our friends, the Bradleys, to join us and I planned to make five dishes – three of which, I'd never made before! Jim's favorite part of the traditional feast is the Ham Stack, so I had to go to a specialty meat market this morning to buy ground ham (because a regular supermarket butcher is not allowed to grind both raw and cooked meats). The gentlemen at Kelly's Meat Market were so helpful and pleasant! Anyway, besides that, I already had all my shopping done, so I could go home and get right to work. Here was our menu: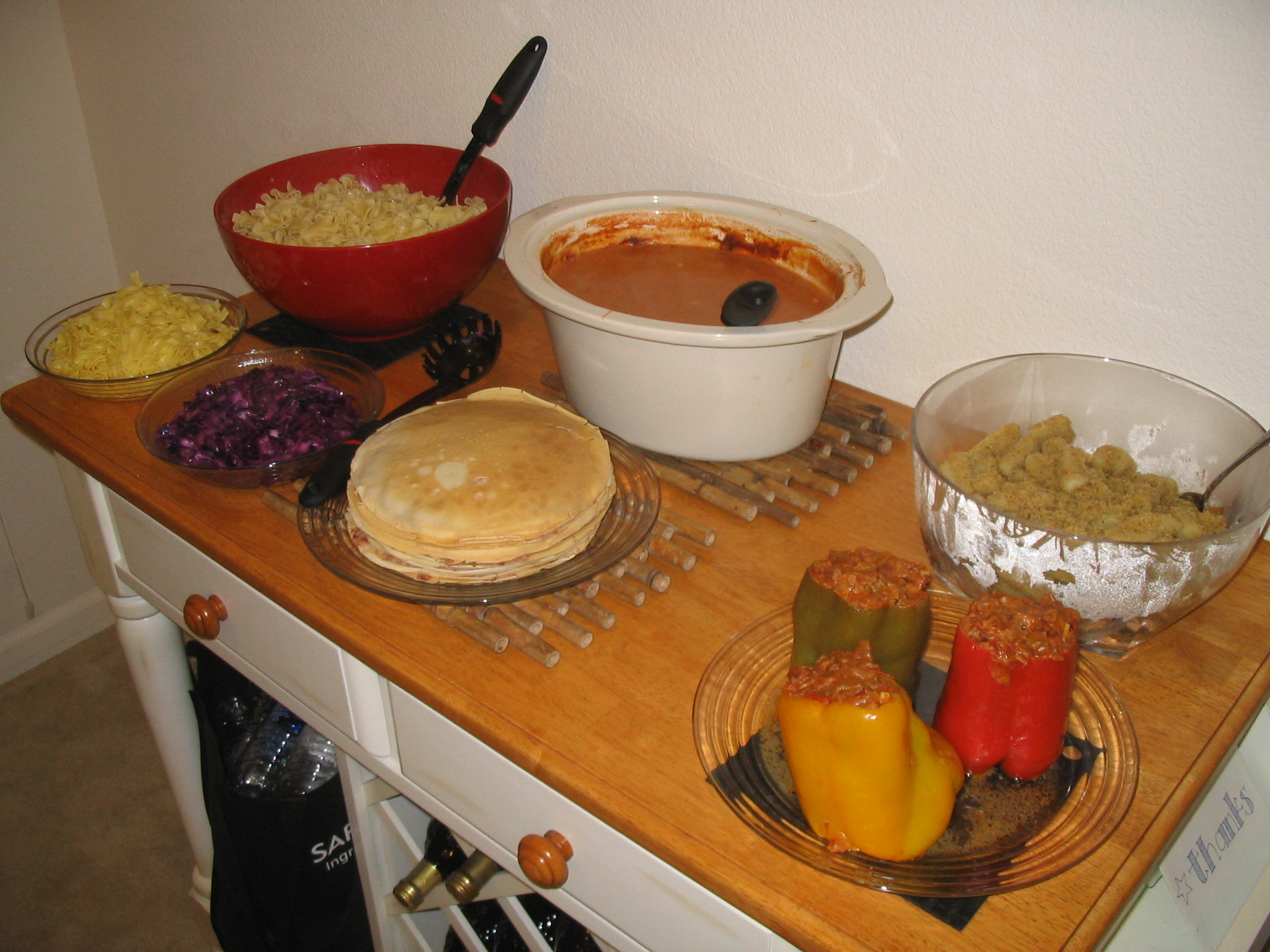 A 16-layer Ham Stack – Alternating layers of palacsintas (kind of like crepes) with a mixture of ham in bechamel sauce. I've helped with this one in past years, so it was familiar. I made the ingredients and Jim stacked it up.
Voros Kaposzta – Red cabbage, braised in butter & vinegar. Kristyn took over for me on this one and it turned out great! Well, those who like red cabbage thought it was great.
Kathy's Goulash – Beef in a sour cream red sauce over hot buttered pasta. This is a regular favorite at our house, especially because it cooks in the crock pot all day and is super easy.
Krumpli Nudli – Potato noodles rolled in breadcrumbs. These are a lot of work! I know, I was forewarned . . . but Jim loves them, so I thought I'd give them a try. By the time I was done rolling the noodles, I thought my arms were going to fall off! They tasted wonderful, though, so I'm afraid I'll be making them again in the future. 🙂
Hungarian Stuffed Peppers – Bell peppers filled with meat, rice, and aromatics. This was not one of the traditional dishes Jim grew up with, but I wanted to try it. This link goes to the original recipe, but (of course) I played around with it a bit. Instead of ground meat, I used kielbasa (polish sausage) and it was delicious! The recipe also calls for "paprika gravy," which looked pretty strange to me, not to mention huge…so I changed that a lot. I left out the anaheims, only used 2 cups of beef stock (instead of 6), and a few tablespoons of corn starch (instead of 3/4 cup flour). I ended up with a tangy, creamy paprika gravy that we used on our peppers, with plenty left over. It was also great on the krumpli nudlis, actually.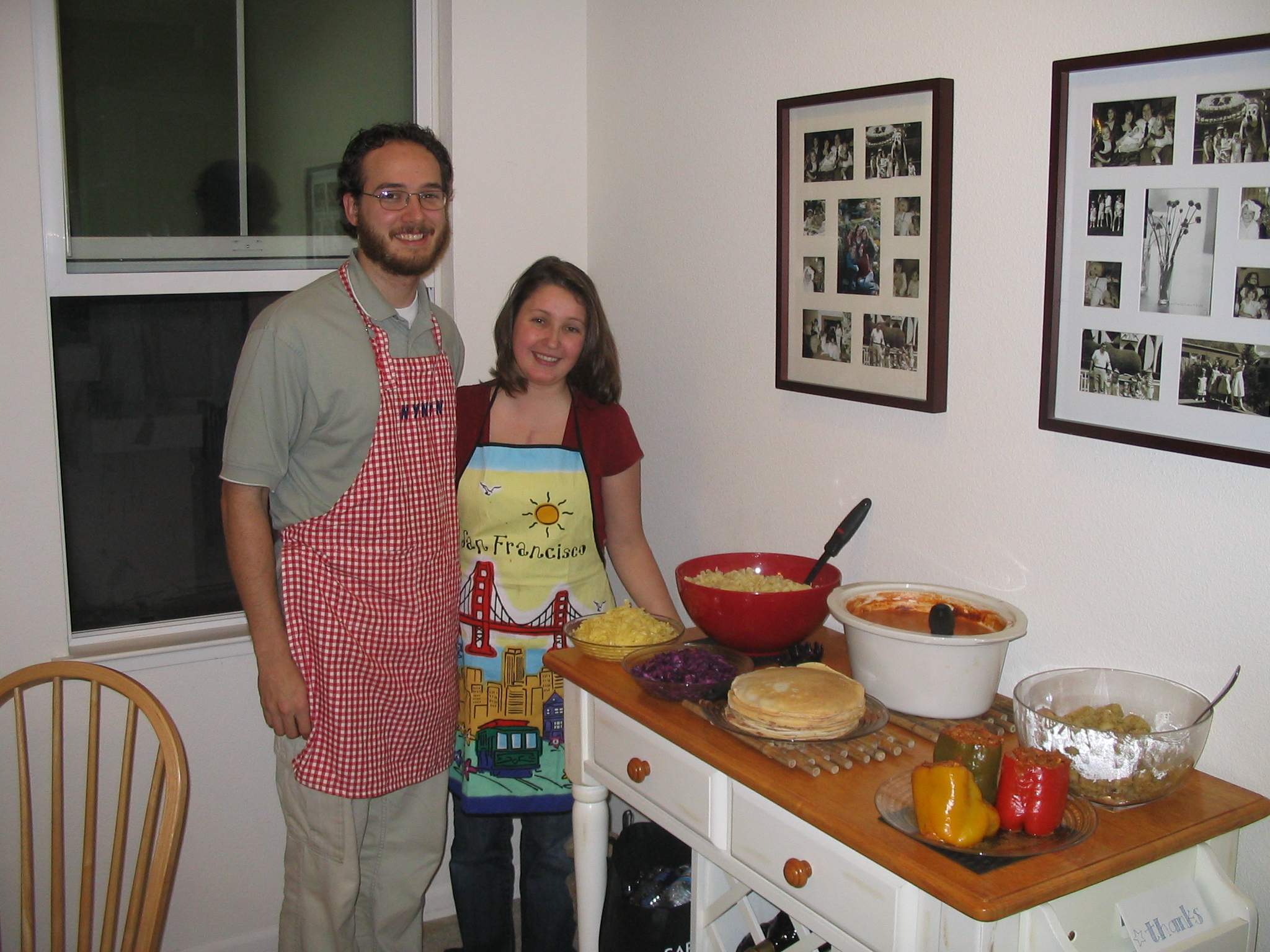 After dinner, Jim read us the Mikulás chaper from Kate Seredy's "The Good Master." Kathy will be gratified to know that the very same parts that always make her cry got Jim a tad choked up, too. When he finished, we discovered that Mikulás had left treats in the Bradleys' shoes, which we had set out on the windowsill! Their two-year-old daughter, Emily, loves toy cars, so that was her present. She played with them while Jim & Justin played Guitar Hero and Kristyn & I played with little Maddie (and chased Emily around). When it was time to go, Emily was pleasantly surprised to learn that she really got to keep the cars and take them home! All in all, it was a wonderful evening. I'm glad our first Mikulás Feast was such a great success!