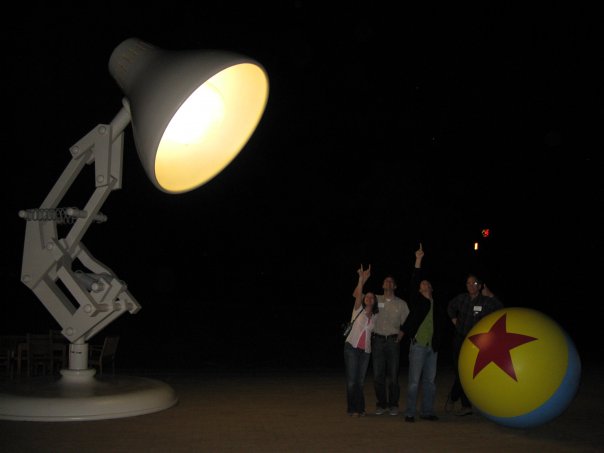 Last week, while my in-laws were in town, we all took a trip out to Emmeryville for the "Friends & Family Screening" of Pixar's newest film, "UP."  We met up with Jon first at a fantastic pizza place called "Nathaniel's" in Berkley.  After dinner, we drove over to the campus, received our special guest badges, and headed into the main building.  There wasn't much of a line forming yet, so we went upstairs to the gallery to spend some time looking at the concept art for the film.  When it was finally time to go in, we sat together in the center near the front and center of the theatre.  After "Ooohing" and "Ahhing" at the shooting stars and watching a silly little short, we finally got to watch "UP."
It was so fantastic!  I simply can't express how hilarious and darling it was, and how much I enjoyed it.  I couldn't do it justice if I tried to summarize it, so I will just emphatically encourage everyone I know to go and see it as soon as you can!
p.s.  All you Californian Fenton fans – keep your eyes and ears open!