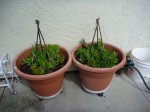 The heat wave in January that I posted about didn't last, and it's been very cold and wet here. However, I've still managed to make some progress in my backyard! In addition to my herb garden, I now have a little "salad garden" right outside our back door. Between the two containers, I have 6 baby romaine, 6 sierra lettuce (a variety of red leaf), 6 sugar snap pea plants, and one each of arugula, sorrel, and stevia.
Confession time… At the nursery, i actually went over the whole table of lettuce-like seedlings and tasted each one so I would only be buying things I would actually eat. I just pulled off little leaves near the edge – in a couple of cases, I picked one that was starting to come off anyway! And, yeah, I ate them right there in the nursery. They're really good about organic growing and no pesticides on veggies and stuff, so I don't think I'm in danger of dying… There were only two that I tasted and didn't buy, one of which was radicchio, which I now know I REALLY don't like. I wanted to get spinach, too, but they didn't have any seedlings. I may start some spinach from seed.
It's funny – growing up, I somehow thought that all kinds of lettuce just tasted the same – like a whole lot of nothing. Like it was just a neutral canvas for THE REST of the salad to sit in. The only considerations were how green it was (Mom says greener is healthier) and how crispy it was (Dad likes it crunchier). I guess my taste buds are finally growing up!