This was our first year to host Thanksgiving in our own home, with family coming into town to join us! Roger & Kathy flew in with Dallyn (whose Phantom touring company has brought him to San Fran this month) on Tuesday. Jon drove over from Emeryville and spent Thursday, Friday, and Saturday with us. It was so much fun! With only six of us (all adults), we tried to keep things simple. I think we had it pretty easy, cooking-wise.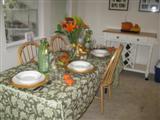 What did we serve? Why, turkey, of course! We actually "salted" our turkey instead of brining it, and it was fantastic! We also had stuffing (but not stuffed into the turkey), and fantastic gravy.   Then there were mashed sweet potatoes, deviled eggs, rolls & jam, salad, and – for dessert – pecan pie and cranberry pudding. Yum – I'm getting hungry again just writing about it all! Our table was beautiful because my friend Joleen Mills let us borrow her Fall decorations and china table settings, and Kathy and I bought fresh cut flowers for the centerpiece.
With Dallyn and "Grandma Hoffman" in the same house, we had lots of family-wide video conferences with the Bayles family.  Kathy and I spent most of Wednesday and Thursday cooking.  Also, while Jim was really sick last week, we discovered a new X-box game that hooked us both: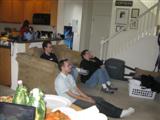 "A Kingdom for Keflings." This was a big hit with our visiting relatives, so someone was playing it at almost any given time throughout the weekend.  On Thanksgiving – our last evening all together – we had family prayer together, and talked about the many blessings our family has to be grateful for.  We all expressed gratitude for our families and the Gospel during these troubled times, as well as for the secure jobs we each have right now.  It's been a wonderful season of Thanksgiving!