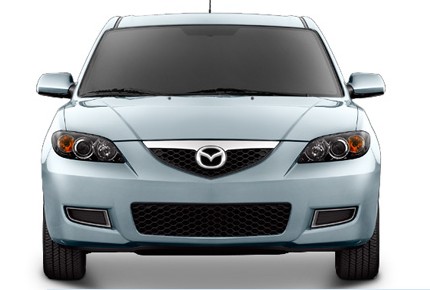 Our car was in bad shape, so it had to spend a couple of days in the shop.  In the mean-time, we decided to rent a car for Wednesday, since I needed to get to Concord and back.  With AAA, renting was a lot cheaper than we thought it would be, and Hertz gives a discount if your car is being repaired.  So, I got to drive a fancy-shmancy Mazda3 for the whole day!  It was light blue, like in the picture.  I felt so cool – like I was on vacation or something, driving a sleek automatic with that "new car" smell.  I thought it would make our car seem pathetic in comparison.  When I picked up our own little Mazda 626 at the shop, though, with a new water pump and tensioners rumbling along inside, I felt happy to be driving my own car again.
Cars can be so exasperating.  We think our brakes need replacing pretty soon here and are trying to decide when and how to make it happen.  Jim and his friend Justin were looking them over this evening and it looks like they've got another couple of months on them.  With Justin's help, Jim is thinking of replacing the brakes as a DIY project (it would save us hundreds of dollars – literally) …but just contemplating such a task made us both even more aware of how little we know about cars.
Justin has done home repairs before and worked on cars a lot with his dad when he was younger, but he doesn't feel like an expert, either.  He said it seems like those who know tons about cars remind him of a club – if you're not "in the know" early on, it's really hard to be initiated later in life.  Where does a car-dumb grown-up with no mechanical savvy or spare car to take apart find herself some effective tools for figuring out how cars work, anyway?
The end.