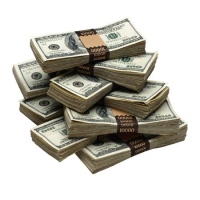 Well, I just finished wiring the most money I've ever spent in my life.  We signed papers for our new home last Friday and today I called up my bank and had the money wired.  I was a little surprised at how quickly it was gone.  I had spent years saving it up and within seconds of hanging up the phone, I hit refresh on my browser and it was gone from my account.  Scary.
Last night, Angie and I watched some DIY videos on laying laminate flooring and decided we ought to try doing it ourselves.  We went down to the hardward store to look at what they've got.  It was a fairly successful trip.  We'll keep you posted as we do the renovations in our new home (and, of course, include lots of pictures).
When I lived in Orem, I was loyal to one grocery store: Macey's.  They were friendly, inexpensive, and relatively close to home.  Oh, I made convenience stops at Harmons, Albertsons, or Smith's sometimes, but Macey's generally took care of everything I needed.
Here in California, I have struggled to find any one store for the majority of my shopping.  In our little Springtown area, there is a PW Market close enough that I can walk to it, if my load will be light coming home.  After having a horrible experience there once and noticing that their produce isn't very good, however, I haven't been back often.  Safeway has some neat things: fresh-ground peanut butter, a gelato counter, and an extensive kitchen-ware section that takes me there every other month or so (there are no proper kitchen stores in this city!), but their stuff is generally pretty pricey.   It was wonderful, though, to have Safeway delivering groceries for a few weeks last year, when I had surgery – what a great service!  I visit Costco once or twice a month to stock up on pantry and freezer items (I never thought I'd say so, but their salmon and shrimp are so good!), but I have learned to never buy bread or produce there.
The one store that has the best blend of everything I like & need is probably Nob Hill – a friend of mine suggested I go there several months ago, and it is a really great store: decent prices, yummy bread, nice variety of healthy stuff, and really good produce.  Their staff is very nice, too.  Unfortunately, they're way over on the other side of town.  I usually take my shopping there on the weeks that I have my blood tests, since it's right by the lab.  Trader Joe's is near there, as well, which has a lot of unique items, good produce, and reasonable prices.  My husband loves it when I shop there, because I usually bring home one or two interesting new things to try.
Last of all, I try to save some of my grocery money each week to go to the Farmers' Market on Saturday mornings.  It's out in Pleasanton, which is about a 20 minute drive, but it is such an interesting and rewarding experience that I really feel that it's worth the extra time.  I'm learning more about when different fruits and veggies are in season, and it's neat to actually get to know the local growers.
Consequently, I find myself grocery hopping.  I guess that with my resolution to get more fruits and veggies on the table, a husband who is avoiding cow milk (we've tried soy, rice, and almond so far – our dentist says it's healthier), and a cat who is rather particular about her litter and the brand of food she eats, on top of just trying to save money, I can't expect to find everything in one place.