Last night we had the opportunity to attend a broadcast which was distributed to various Stake Centers all over California, as well as a few in Utah.  Elder Ballard, Elder Cook, and Elder Clayton (a member of the Presidency of the Seventy) spoke on the importance of protecting and defending the institution and definition of marriage against the rising tide of same-sex demands.  We were challenged to commit at least four hours per week over the next four weeks to support the Yes on Proposition 8 campaign, which will define marriage in California as only valid between a man and a woman.
Elder Ballard took some of his time to speak directly to the "young single and young married adults who are proficient in today's techology."  He pointed out, "You text, blog, Google, twitter, ping, and write on your walls… I would have been sent to my room for doing some of those things in my day!."  It was very fun to hear him praise the talents and efforts of my generation, and encourage us to use our unique grasp of technology to spread the word in support of Proposition 8 with a new website developed by the church about marriage, families, civil rights, and tolerance.  My favorite quote of the evening, was from Elder Cook – who lived much of his life in California, including studying law at Stanford University:
"There are those who vigorously promote beliefs and practices contrary to our own.  They have the right of free speech, granted in our constitution . . . So do we!  We can vigorously promote our beliefs and practices.  We can do so with great conviction, and also with great love."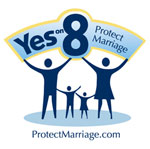 At my Spirit Dance class this morning, two of the women were talking about fasting – specifically, that they are both participating in a 40-day "Fast for Families."  They are both Born-Again Christians, and their ministers have organized this fast to support Proposition 8 (the CA Marriage Amendmant).  So, they began earlier this week with whatever type of fasting they felt they could contribute:  Trudy is fasting from food and will only drink liquids from now until November 4th.  Jessica said that she and several other people she knows are fasting from an action, like watching TV or drinking alcohol or a bad habit, until Election Day.  I love it!  When I was home with Jim we discussed the idea and we plan to join in.
So, just for fun, I was playing around on some search engines to see what kind of search terms it would take to find our blog. When I typed "angie & jim" to Google, an RSS feed for our blog posts came up as the third result. When you use Google, it has a link after each of the possibilities to search for "similar pages" so, I decided to click on that and see what Google considered "similar" to our blog.
What was the top result?  Check this out: