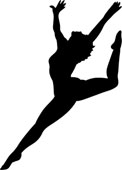 Attention, Bay Area choreographers, trainers, & dancers!  My friend Kjelene owns an established dance academy in Livermore and is offering studio space to entrepeneuers who wish to start their own classes, dance crew, or company.  You would not need to consider your classes affiliated with her academy – this is just a rental contract for one or more of her studio rooms.  She can host all kinds of classes, including yoga, martial arts, ballroom, hip hop, Irish folk, hula, etc.  If you want more info – or know someone who may be interested – just leave me a comment or send me an email!

This morning I attended a new class that Kjelene just started called "Spirit Dance."  It was fantastic!  Apparently she has been doing a Spirit Dance Ensemble for youth for a year now, but she recently had some adult women who asked if she would begin a class for them.  All the music is Christian, uplifting, and inspiring, and we pray at the beginning and end of class.  The dancing is basically beginning jazz, but because of the prayers and the music, there was a special spirit there.  We're learning choreography to an arrangement of "Amazing Grace" right now.  Kjelene is such a sensitive choreographer.  I don't know if we'll ever actually perform, but that doesn't matter so much to me – I just love doing it!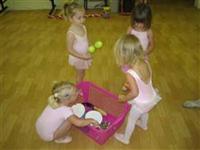 Sunday before last, I was talking to Jollene Berghoff at church about where to find an adult tap class (since she teaches dance). She told me that she only teaches clogging, but I should ask Kjelene Deakin, who owns the dance studio where Jollene works. In fact, she found Kjelene right then and introduced us. There isn't an adult tap class right now, but she's been thinking of starting one and said she'd get back to me. At Enrichment meeting two days later, Kjelene found me and asked for my phone number, saying she had "had a brainstorm" about me… I didn't think much of it, figuring it was just about starting up the class.
Wednesday morning, Kjelene called me and asked if I would be interested in being an instructor at her dance academy! I was completely floored. I tried to figure out what I might have said on Sunday that would give her the idea that I was qualified to teach dance – that "I'd taken tap and jazz and a little ballet years ago" didn't seem to fit the bill to me. She explained that she wanted a new teacher to share her "Tiny Tots" classes – kids from 2-5 years old – which required much more in the way of personality, patience, and "storytelling" than perfect technique.
So, today was my first day at Trinity Arts Dance Academy, where I first attended Kjelene's Pilates class to get warmed up, and then shadowed her for Tiny Tots and KinderBallet. She had half a dozen extra kids and moms there than usual, taking today's class to try it out for free. It made for a pretty crazy morning. It was really fun, though, and I loved being back on the dance floor. I only had my tap shoes on for about ten minutes, but it felt so great! I'm still a little amazed at what I've gotten myself into, but it's been fabulous so far!