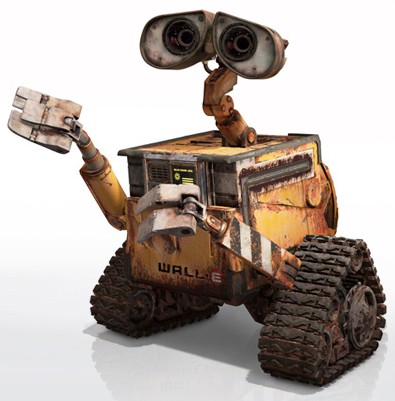 Congratulations to Jon!  He learned today that he is being officially hired by Pixar!  Huzzah!  Hooray!  We're so thrilled!
We found out the good news when we met Jon at the Pixar campus tonight, where he had invited us to a sneak preview of  WALL-E.  The new short before the film was bizzare, but cute – and then WALL-E started.  I spent the first two minutes laughing: if you know musical theatre, you'll probably do the same.
It was fantastic.  Definitely a favorite of mine already.  I think that, deep down, WALL-E is a story about what it really means to be "alive" – whether we're talking about a robot or a human, a plant or a planet.  It's also, interestingly, about agency.  Mostly, though, it's about love.  This is Pixar's first actual love story, and it was adorable.  It's not as quotable as other Disney movies (for obvious reasons), but there were still some great lines it it.  On the other hand, so much is conveyed without any words at all that I was amazed.  I even – I'll admit it – cried.  Honest to goodness, tears streaming down my cheeks, right near the end; and I didn't even realize it until the credits started.
Anyway, it's wonderful, and I highly recommend that everyone should go see it!  Today!  Take a date and hold hands.  Take your kids – they'll love it.  Go by yourself and just enjoy it.  Don't miss it!