Since we were all getting together this weekend for the big family reunion, the Roger & Kathy family decided to meet up and have a BBQ on Friday evening.  Tom & Pam Dozier were kind enough to open up their home and pool for our family's use.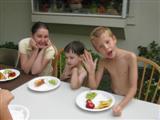 They are good friends of the Hoffmans, from back when they all lived in Texas:  Now that the Doziers are in Livermore, we get to see them all the time!  Tom grilled up some delicious steaks and hot dogs, and we all swam and ate and played for hours.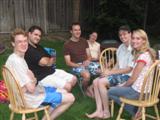 Since Jason's birthday is Sunday, we wanted to be sure to celebrate that, too, so we all had prepared movie scenes for a game that consisted of Jason guessing what movie we were portraying, despite the fact that we changed situational elements to make the lines harder to place.  He won lots of candy that ended up being shared all around.  Jon's girlfriend, Michelle Piazza, came for part of the evening and met everyone; and even Kathy's mom, Vera, flew out for a special visit, since she didn't want to miss a gathering of so many grandchildren and great-grandchildren!