I'm here with Angie in our room on the cardiac unit. Angie's mom stayed here with Angie while I went and took a nap. While I was gone, they moved her out of the ICU (yay!). Now we just play the waiting game while her new medicine kicks in to stop the arrhythmias. It's a little frustrating because there isn't really anything she can do to speed things up. For other recoveries, there have been goals, like walking down the hall 3 times a day, or breathing a certain amount, etc. that she can focus on, but this time the observation is just how for her heart and is out of her control. We'll make the best of it and try to keep her active.
Speaking of breathing exercises, Angie asked for an incentive spirometer (her absolutely favorite thing about hospital visits) so she can work on her breathing. It's kind of like a game, except much less fun. She was able to get just above 1000 mL, which is her new high score. We'll see if she can keep breaking her record.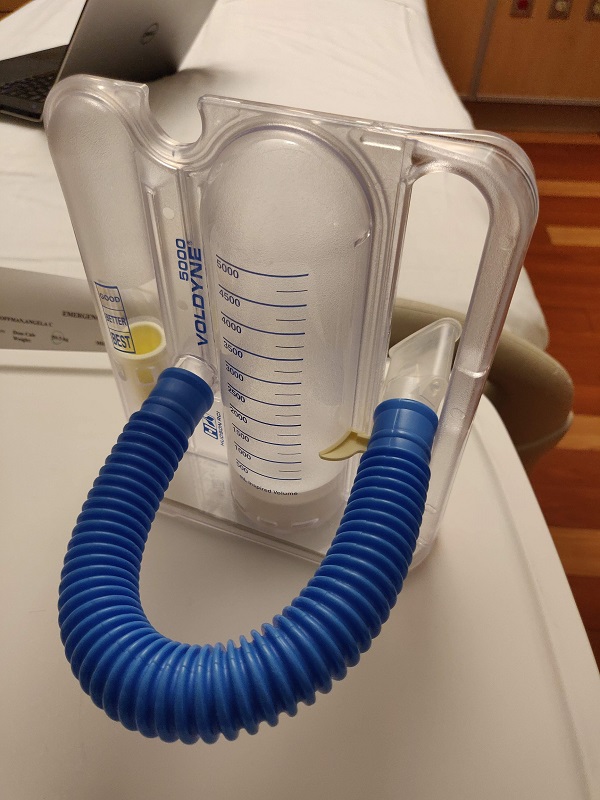 Shortly after I returned, Angie's first cardiologist here in California, Dr. Murphy, paid us a visit. It's been many years since I've seen him, but he was still very interested in Angie and had been following her case closely. He had a lot of very kind words to say about Angie, which was very nice. He told us he was always so impressed with how much support Angie has from her family and friends, which he said was so very important in the cases he's seen. He said he was never worried about us, even though Angie seems to have the worst luck medically, she always takes things in stride and does better than expected. He said she's the poster child for the adult congenital heart clinic. It was great to see him again and to know that even though he's stepped away from an active cardiologist role, he's still very involved here.
Angie's mom stepped out for a minute, but we've got a whole list of movies to watch. Thank you for your care and concern. It means a lot to know you're following along and aware of what we're going through. Please comment below if you'd like to leave some words of encouragement for Angie.
Comments (3)
Trackbacks (0)
( subscribe to comments on this post )



11:46 PM

on January 10th, 2020



12:07 AM

on January 11th, 2020



3:37 PM

on January 11th, 2020
Leave a comment