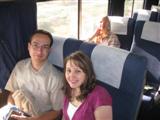 We rode on a train!  A couple of months ago, when we were discussing the Hoffmans' visit out here to see Kehlet Mansion, Roger brought up the idea that we could travel up to Tahoe by train, so we checked out the Amtrak website and looked at the routes and cost and such and decided it was a great idea!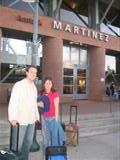 So this weekend we rode the California Zephyr from Martinez to Truckee.  Martinez is a little further than the Emeryville Station, but it was a lot smaller and quieter, and the parking was free!  We rode in the coach section, where there are pairs of seats that look a lot like those on an airplane (only much roomier and without seatbelts), but you can move around from there to the lounge car, the snack bar and tables downstairs, or the dining car.
The lounge car has more windows, and seats that swivel to face outside or tables where you can sit and play card games and such.  We played "Mille Bourne" for hours and also a card game I made up called "All Hands on Deck" – trying to perfect the rules and the point system.  The hot food in the snack bar wasn't great – all microwaved stuff – but they had candy, juice, soda, and other convenience items for sale too.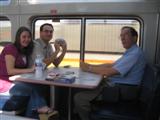 To eat in the dining car, you have to make a reservation well in advance.  We had lunch there on the way home and I thought the food was very tasty.
It was about a five-hour trip each way, and delays and things made us arrive much later than scheduled on both trips, but when it comes to relaxing travel and beautiful landscapes, it can't be beat!  I highly recommend it, and hope we'll do it again sometime!